You know. The ones I talked about sewing a gazillion years ago? Okay, well, in January. No one can say that I am not thinking ahead. Ahem. Anyway, I said something about cranberry dupioni silk. Yuk yuk yuk. I ended up sewing a Matron of Honor dress for myself and a cute little dumpling dress for the baby using, get this, acetate taffeta. So I plan ahead, but I have more money in my fantasy life than I do in real life. Actually, I decided it made good sense to use less expensive material, as I probably won't wear this dress over and over again- I'll want to sew another one! Here is the low down on the hoe down:
Simplicity 5343 copyright 1963
Simplicity 5343- My Version for 2011
That's my big sissy Jessica and I walking together as Matron and Maid of Honor
Yeah, it was "snowing a little down south" as my MIL said they used to say back in the day. Or, in other words, my crinoline was showing. Whatev. I won't beat myself up over that, and it's good it didn't show any more than that, as it was a last minute Franken-petticoat I made from netting from an A-line wedding slip and an old half slip.
Speaking of last minute, did you know that once people know you can kind of sew, they will show up places and expect you to make dress repairs and alterations at the last minute?
Brat! Me 'n my little sis pre-ceremony. Ain't she cute?
Here we all are in our Ladies' in waiting glory....
All of these beautiful ladies are my sisters.
I have 5! Aren't we lucky?
Yes, my dress looks like a different color. That is because I am the only one in shiny, shiny taffeta
And here is the pattern for the baby's dress- Simplicity 9191 copyright 1970. It is the same pattern I used for her
Easter dress
. I knew it fit.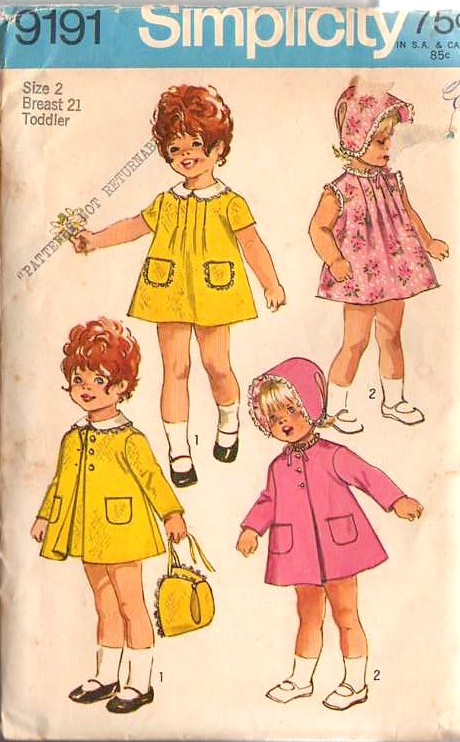 And in the year 2011 it looked like this...
Her dad put her hair up, but she pulled out the ponytail in a nanosecond. Later she decided she'd had enough of tights.
And here is the Couple of honor, my
other
lovely sister and her husband.
Dashing, aren't they?
I successfully sewed two formal dresses, one rather large, and one very small. Now for the dirt and details on the construction...in other words, if sewing isn't your bag, you are gonna wanna dip out now.
The fabric: I wouldn't say it was "from hell," but it certainly didn't come from that other place. It was a pain in the tush. It creased badly, marred easily, and it was difficult to press because of water spotting and changing color. And it was slippery. But on the upside, it cost me under $35 bucks for the fabric for these two dresses, and I still have some left. Tha's pretty sweet, right?
Adjustments: I made a size 16. I shortened the bodice by one inch and removed an inch at center front and center back at the neckline only, tapering to nothing at the waist. I have since made sense of
the seam method
for pattern alteration- the waist on this one was short because I removed the fabric at the waist instead of over the bust. I think I've got it now, doh.
Pattern Instructions: I have gotten pretty bad about reading these at all. I did refer to them many times to figure out those tucks. Those blasted tucks. Those tucking tucks. Shucks, those tucks were a pain.
So, I winged it. Wung it. Something like that. I underlined the bodice in a tricot interfacing. This worked very well. I used the glue method Gertie blogged about
here
to no ill effect. It was fast and the result was a less creased and wrinkly bodice. Actually, underlining made the fabric behave very nicely. I also lined the bodice with self fabric. I hand picked the zipper. I serged all seams, and I did a narrow hem. I wanted a deep hem, but I would have had to underline the entire skirt to hide the stitches. And I didn't do that. What I did do was mark my hemline, serge it, and turn and stitch it. Not the traditional method perhaps, but it worked out fine.
Problems: The blasted tucks. Did I mention the tucks? And the creasing. Wah wah wah! Actually, that was the biggest headache. I flew with hubby and baby to Maine for my sister's wedding, and I packed a separate, hard sided vintage suitcase for our dresses. I stuffed them with tons of tissue, and I wrote a sweet letter to TSA begging them not to wrinkle them all up.
What I love about it: I conquered that fabric and pattern. It was not easy, but I did it. I also practically applied my hobby to save us a good deal of money. Bridesmaids dresses are often expensive and ugly. Nuff said there. I got to make and wear something special and personal to a most special and personal occasion. You've got to admit- that does rock. And I learned a ton. I don't get sweaty palms thinking about slippery fabric. I made my own cording for the waist. And underlined. Oh, and I made those little flowers on the front from scraps and pearl beads.
What I would do differently next time: sew with a fabric I can press and steam like we're on a train to hell.
Me and my man on the dance floor
That's us at the end of the night, and this is the end of this post! That was fun, but I am tuckered (DOH!) out! Goodnight all!