Today is Easter, and tomorrow my hunny goes back to work, as his spring break is coming to a close. We three have had a great time just spending time together- sharing meals, talks, naps, thrifting, and snuggling. Only a bit over a month and he'll be home for the summer.
We have had family visiting, and you'll never guess....we went to the BILTMORE! Ha ha! We are getting our money's worth out of those season passes. I won't post a gazillion pics of flowers, just a few more neat vintage luggage shots.
On the way over there we hit some secondhand stores, and a thrifting/sewing dream of mine was realized when I happened upon a shop that had a whole bunch of 40s (most in my size) patterns as well as some very cute 50s/60s stuff for $1 each. I bought twenty some-odd patterns- quite a steal! (It's a slightly better view anyway, Portia! It's okay- I like to see the goodies you hunt out too!)
The next day, we colored Easter eggs. I haven't done that in years, and it was a lot of fun!
And, as if there weren't enough going on, I decided to sew new dresses for the bunny and I! I had already begun her dress, but as for mine, I disassembled a dress I found thrifting, recut the fabric for my new pattern, and decided to fully line it.
It began life as a Jessica McClintock for Gunne Sax style 80s does 50s dress
Add McCall's 9746 from 1969 (borrowed pic- buy this pattern here)
And we ended up with this!
This dress has a "bra top," it is interfaced, lined, and fitted very snugly. As I said, I decided to line the whole thing, and it was my first time doing a fully lined dress. I also made fabric covered buttons for the front. I like the style a lot, and the empire waist/a line combo allowed me to cram in the maximum amount of my MIL's yummy Easter food! Gremel's little dress has lace on the collar, bunny applique', and I hemmed both dresses and inserted the zippers by hand. In fact, with the lining in mine, I did a fair amount of hand stitching, and all in all it came out pretty well.
Seems harder, but it's actually easier for me to get a nice, unpuckery result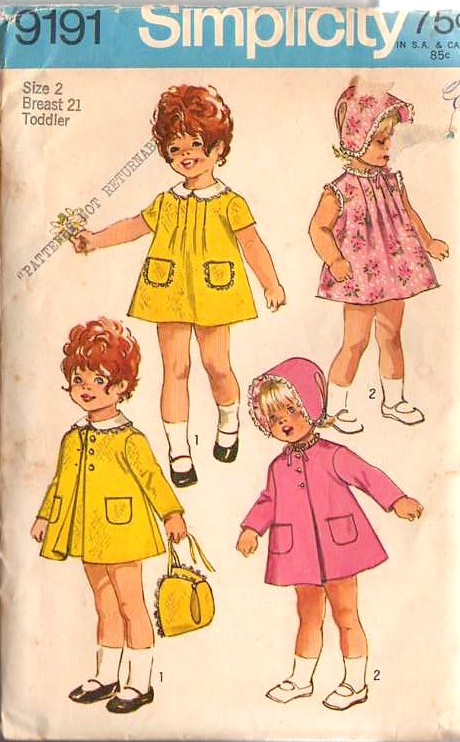 The pattern for Bunny's dress-
I used an applique from another pattern that I found yesterday thrifting- what luck!
Excuse the wrinkles, I took this after she wore it
Yeah, it was kinda crazy. I sewed until late last night, and then I woke up and sewed for a few hours today! It was fun though, and well worth it because we got some really nice Easter family photos.
I really hope you had a wonderful holiday as well- with loved ones, in your part of the world, with your special traditions. Now to rest my hands and arms up for some more stitching, gardening, and baby hugging. Goodnight!