I needed some high waisted shorts to go with that 40s Fun-Shus blouse, so I threw this green denim pair together on Saturday. I used
McCall's 8331
again.
I added a ribbon waistband using a fun lipstick print instead of a facing, and I hand picked the zipper. I think since the first several zips I sewed were hand picked, I just don't like the way a machine sewn zip looks most of the time. We all have our hang ups.
It's been raining A LOT, and I didn't get any good pics, but you get the idea.
I did some pattern work on the shorts after this to replace the darts with seams, and the next pair I make will have piping in the seams. I'd like to incorporate this piping, which I made by covering white store bought piping with white lace. I think it would look really pretty using contrasting colors of piping and lace too. I originally made this corded piping for my bridesmaid's dress, but didn't end up using it then. I did use some on an Itty Bitty project I whipped up the other night though.
Itty Bitty Toddler Dress Pattern
from Made by Rae after seeing a sweet baby version on the blog
Tilly and the Buttons
. I seriously love sewing things while my daughter is sleeping and hanging them up in her room for her to find in the morning. She gets excited and always wants to wear them right away!
Totally unrelated to anything- in counting some patterns for my
Etsy shop
recently, I discovered that, sadly, Simplicity 3315 was
missing the dress pieces
, and contained
only the pattern for the coat
.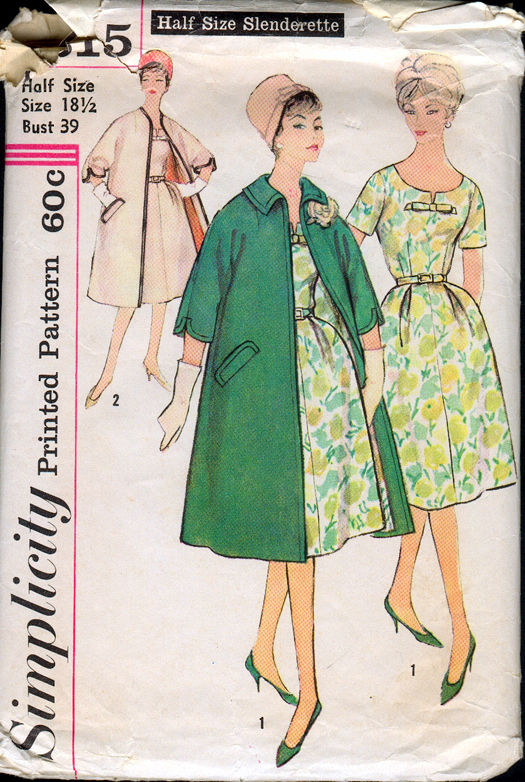 Image courtesy of the Vintage Pattern Wiki
It is a size 14 1/2 or 35 inch bust, and anyone who would like to try sewing up the coat can have it. Leave me a comment with your email address, and I'll contact you to get your mailing address. Is it just me or does anyone else think this would make a particularly classy and glamorous raincoat? Search laminated cotton to find inspiration for some lovely rain wear.