We are in full bloom here in Western North Carolina. I have been up and down the east coast and lived in the extreme north and the extreme south (Maine and Florida), and I have to say that spring here is more beautiful than I have seen it anywhere else. For one thing, it comes a few months sooner than it does in Maine- my dad is still looking at snow on the ground! And in Florida, you don't really get to experience seasons, you trade them for consistent sunshine, which can be nice too. But here, here in the lovely Smoky Mountains, it is all bulbs and flowering trees. It is all the yellows of forsythias, daffodils, and dandelions. It is all the purples of violets, hyacinths, and crocuses. It is all the pinks and whites of flowering cherries and pears, and the muted reds of new leaves budding on maples and oaks. Can you tell I love it here? Can you tell I really do delight in the majesty of where I live? I do. I am sentimental about spring here now- I think of what it felt like last year, coming home with our new baby girl. How appropriate that she was born just as the daffodils were stretching their heads up to meet the sunlight. I find it refreshing and inspiring.
Last week, I felt inspired to sew a new dress. I didn't want this one to take a million years, I just wanted to sew it up, sew it up right, and have it done before it became tiresome. Well, I finished most of it in two days, and then I spent a couple more putting on the touches that I like. The dress was spring inspired, and it is spring-y. It is my daffodil dress.
Our chickens are so tame. I opened the car door today and one jumped in :)
I did a faux sweetheart with ric rack at the neckline...
and added some to the hemline as well.
This was fun. I did a hand stitched exposed metal zipper to match the ric rack.
It's not as crooked at the top as it looks in this pic :)
Of course I added some sassy hem tape. I am such a sass.
I used Simplicity 4491, which is a pattern that I see myself using a lot.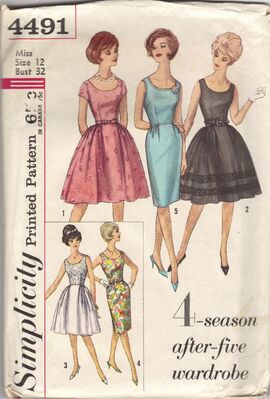 Imagine the possibilites!
This was a truly fun dress to sew, as the process didn't drag on and become a drag. I finished all of my seams with my serger, which I sadly have never done before. I guess I have just been too lazy! I am in the habit of adding a twill tape waist stay. It came out nicely. I feel like my construction is improving, and that's what it's all about! Well, that and having cute stuff to wear. And, unfortunately and fortunately, I don't know if I'll be wearing this one much. I like it, I think it's cute, but it doesn't fit! I have officially lost the rest of my baby weight and then a little more, and this dress is too big on top. It happened kind of fast in the last month or so, and I am no longer a 36" bust. Oh well. It would really chap my arse if it didn't fit because it was too tight.
So, it is time for what's next. That is starting seedlings...
We have great neighbors, and our buddy came and plowed and then tilled our garden plot for us. It looks better than it ever has before, and I am psyched to get to planting! The baby is bigger now, I have a ton more energy this year, and I am eating primarily vegetarian, so I think this is going to be our best garden yet. How are your sewing and sowing plans shaping up? Is everyone feeling as motivated as I am right now?
P.S. I forgot to say (and I always like to!) that all of the materials for this dress were thrifted excepting the pattern, which I bought on eBay. The fabric was $2, the twill tape and rick rack cost pennies, and the hem lace was a quarter. Thrifty sewing might just be the best kind! There are no worries about what you spent on your fabric or making mistakes. More on that to come...