As alluded to in my previous post, I have already completed a project in my new sewing studio. My husband and I celebrated our 5th wedding anniversary last week, and I just whipped this little number up (I've always wanted to be able to say that!) to wear out on our first child free over-night out in two and a half years (thanks Ga Ga!).
It is a great fit and the fabric is really cool. I used two identical 40s (?) feed sacks I purchased at an antique mall in Maryland when I visited my mom back in March.
Cutting into 70 year old fabric is a little nerve-wracking
My original plan was to take
Gertie's Bombshell Class on Craftsy
and use that pattern. Well, I loved the class, and although I employed several of the methods Gertie instructs on in the construction of this dress, mine was not made as carefully as hers. In fact, it was made in a couple of hours spread over the three days before my anniversary. That's the "whipped it up" part. Also, I didn't use that Burda bombshell pattern. I am very small up top, and I just didn't like the way it looked on me. So, I used the top from Simplicity 4070.
Ignore the horrific bubble dress.
I am learning to look past the awful samples depicted on some pattern fronts.
I moved the seams so they would be over my bust, as they were spaced too far out at the sides. I also shortened the bodice by one inch for my short waist, and "sweethearted" it a little more, as it seemed not so heart-y. To this bodice, I added the skirt from
Simplicity 4491
, which I know fits me well and is a style I like from having made it in my Daffodil Dress and in a leopard print as well.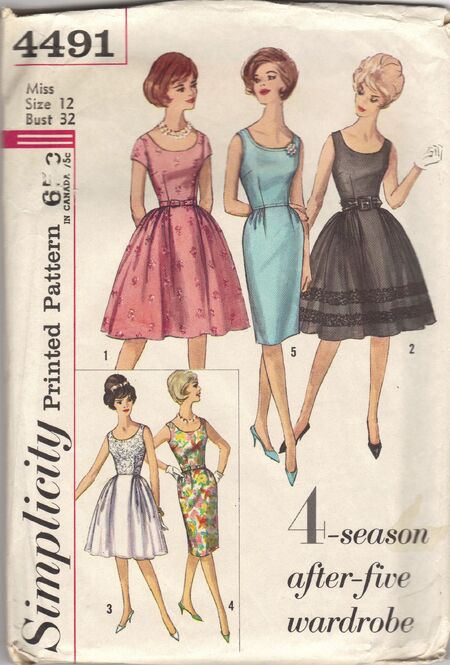 Of course, I double checked to make sure the bodice's princess seams would match the skirt darts and tucks, and then I shortened it a lot. A real lot.
Getting old, but not willing to hang it up yet!
I also put spiral steel boning in the bodice, moved the zipper to the side seam, lined the bodice, underlined the entire dress, included a waist stay, and sewed the zipper and hem by hand. Of the waist stay and boning, I must say I don't think I would have been comfortable in this dress without them. As Gertie says in the class, they are like scaffolding- that dress stayed just where it was supposed to, and I am one of those gals who always thought I didn't meet the requirements for holding up a strapless dress, if-ya-know-what-I-mean.
I loved wearing it, and I felt like a million bucks. The hub loved it too, and we both loved the gazillion pounds of sushi we consumed at our special dinner. And lemme tell ya, that waist stay does start to feel a little tight after a gazillion pounds of sushi and a bucket of hot sake. I can actually sum up the feeling with another photo......
In other related news, I received my copy of Gertie's New Book for Better Sewing in the mail yesterday. I am still reading through, but I think it is going to be a great resource for in depth techniques that my other sewing texts do not cover well. There are some really cute patterns to check out too. I'll give a full run down on the book once I have finished looking it over.
'Til next time...