It is so freaking gorgeous around here right now, I can hardly stand it. The weather turned cool and dry overnight! The leaves have begun to fall, and I went outside a bit ago to find that the chestnuts are dropping from the big tree beside the house. I picked up a bowl full, and they are currently roasting in the oven along with the amazing peppers we picked up at Osage Farms yesterday.
Things aren't looking totally shabby around our garden either...okay, the garden looks pretty shabby, but we are still pulling goodies out of it every day!
We just roasted up three winter squash, and B is getting a batch of collards in the crock pot. It is a regular harvest food festival around our house these past few weeks.
Baby A is eating solid foods now, and it is really excellent that she has started solids at this time of year. We have been baking apples, squash, pumpkins, and turnips, and steaming kale, snap beans, and corn and pureeing all of it in the blender for her baby food. She may someday turn to EZ Cheese and Wonder Bread, but hopefully not if we can teach her to love delicious, fresh food right from the get go.
Chowing down on some kale oatmeal! Yummy!
On the subject of sewing, I have recently finished another project! I am participating in a sew along, and I have been working on a coat muslin piecemeal for weeks. I decided that if I was going to keep my motivation up, I needed something wearable fast. I sewed up this quick (and dirty!) skirt to wear with my riding boots, and although there are super obvious flaws, I consider it a wearable muslin.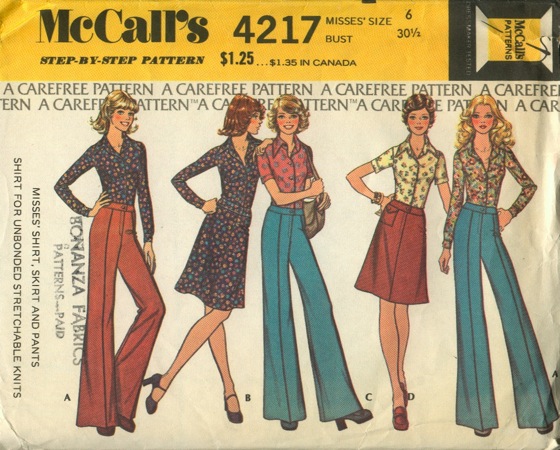 1974
Once I knew the skirt fit well, and that I really liked it with my boots, I decided to sew it up again (neatly!) in a camel wool that I bought at the local thrift shop for $1.50. I used vintage thrifted notions (metal zip $.25, mother of pearl button $.50, lace hem tape $.10), so the whole skirt cost about $2.60 if you include the 25 cent pattern price. I really enjoyed sewing it up. The pattern is great, and the wool, although it has a bit of an animal fur-ish smell, was quite nice to work with also.
If you don't like my skirt, perhaps you will still like my baby in this bear outfit!
If you don't like my baby in this bear outfit, I can't help you. Nobody can.
I tried out some new techniques this time around, well, mainly the hem tape, but I think it gave a nice polish to the inside of the skirt (since my pinkers suck!). My zip came out pretty well, and I used the auto machine button holer with much more success than on previous projects. I am also getting pretty used to the blind hem stitch. My hand stitching is so crummy that the blind hem stitch, although it is not at all blind, is a marked improvement. I also learned how to use my dress form hemming arm with these last two skirts, and I must say it is really nice to be able to easily hem a garment to a length that will make your legs look slim and show off your favorite riding boots. The wool version came out a wee bit tight (the knit was loose, and I thought a fabric with less stretch would sew up as a perfect fit. Not so), but as I am still watching the baby pounds trickle off daily (SLOWLY, but surely), I think it will be fitting me very well in no time at all. That is if B stops bringing home dessert breads from the country club where he works weekends.
I wanted to take a few shots of my new skirt to post on
Sew Retro
, and it turned out to be a great opportunity to slip in a few family photos.
I am a lucky, lucky lady.
Well, that's the news, or lack thereof, around here. I sincerely hope you are enjoying beautiful weather wherever you may be! We are expecting visitors again in the upcoming weeks, and now that the weather has turned nice, we are planning some hikes and day trips. I will post pictures of foliage and fall scenery as I see it!